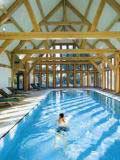 Annual Membership at Bailiffscourt Spa - One of the most luxurious spas in the south of England, Bailiffscourt Spa was purpose-built to provide the finest contemporary health and relaxation facilities in stunning surroundings.
The price includes the one off joining fee and access to:
Our heated indoor pool
Our heated outdoor 'infinity-style' pool
Outdoor 'Californian-style' hot tub
Indoor spa bath
Sauna & Steam room
Relaxation room and coffee lounge - overlooking the outdoor pool
State-of-the-art and fully equipped gymnasium with resistance, CV and free weight equipment
30acres of beautiful grounds to explore.
'Sandpiper' Lounge serving refreshing complimentary tea and coffee along with a Spa menu that includes drinks and healthy bites to eat
Exclusive discounts on food, beverages, treatments, beauty products and more.